Bites of reality: Nova Scotian realism at the Dal Art Gallery
Jane Affleck – February 21, 2014  Dalhousie News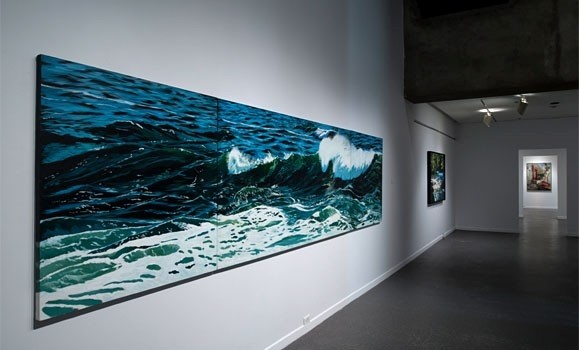 Exhibit Detail from "Capture 2014" at the Dalhousie Art Gallery
If someone says a painting is "realistic," you know what he or she means: the objects or people represented look as they do in real life — just like "the real thing."  

The idea that art can be a faithful representation of objective reality is explored by many of the paintings in "Capture 2014: Nova Scotian Realism," the latest show at the Dalhousie Art Gallery. The exhibition also presents a few outliers that stretch the boundaries of the genre.

The two co-curators — Peter Dykhuis, curator and director of the Dalhousie Art Gallery, and Tom Smart, an independent curator and writer — aimed to do just that in the work they chose. We spoke with them about the process of pulling the show together and also invited Peter Schotch, a professor in Dal's Department of Philosophy, to tour the exhibition and discuss the philosophy of art. (He teaches a second-year course on the subject.)
Dukhuis describes the exhibition as a "tag-team" effort, starting with choosing the work. With funding from the Robert Pope Foundation, Smart toured studios around the province to create a long list which Dykhuis trimmed. But both realized they would have to include more artists, so as not to present "the same old" ideas.

The "tag-team" approach also allowed them to complement each other's strengths in other ways. Dykhuis appreciated discovering the depth of Smart's knowledge: "Tom is the leading expert in [realism]," he says. Smart gives kudos to Dykhuis for creating the categories and the installation: "He really gave it shape, geographically and in terms of the motifs. The works in the different rooms 'speak' to each other."
Understanding the past to understand the present
Smart also helped make connections between current works and historical traditions. Onni Nordman's Object 2010, for example, references a self-portrait by 20th-century painter Max Beckman. Smart explains: "Nordman is quoting the German neo-realist tradition, neue sachlichkeit," or "new objectivity." Various pieces in the show recall other realist traditions, including trompe l'oeil (a French term meaning "fool the eye") and social realism.

Local traditions are also key, says Smart, noting he asked the artists about Alex Colville's legacy. "Many of them said he set the pace by sticking to his principles and creating a career out of his world view. But that at the same time, we don't look carefully at his work — you think you know him, so you don't think critically." And that's one of the issues the curators wished to call into question: "Everyone thinks they know what realism is," says Smart. "But…"

The show also considers how digital photography has influenced realism. Photography has long been used as a tool for art-making, says Smart, "not just fine art photography, but as a tool to get at something else. That uncorked photorealism in painting. Fast-forward to the present: what do digital tools mean?" This also provided inspiration for the title, "Capture."

Dykhuis thinks Richard Davis' 2013 painting '65 Volvo will be a favourite. "It displays a certain virtuosity, along with the sense of 'What am I looking at?' It makes one question one's ability to perceive." At first glance, the painting does appear to be a photo, so finely rendered are the subjects. "The detail is mind-blowing."
Smart places bets on Katie Melanson's diminutive painting of a fishing lure, Midnight Special (right). "Her painting is the exact size of the object. It's interesting but weird, as though you could just reach out and touch it. It's very metaphysical."
Beauty and the sublime
Peter Schotch doesn't define art when teaching his Philosophy of Art course. Instead, he tells his students to "consider four different components that go into making art: pleasure, beauty, emotion, and understanding."

While some art lovers might easily connect beauty with the sublime — the latter being something that inspires great admiration or awe — some philosophers have viewed them as being incompatible, including Edmund Burke and Immanuel Kant.  Notions of what makes something beautiful are just as complicated. Dr. Schotch summarizes Kant: though "our judgment that something is beautiful is subjective on the one hand, it also commands assent – as humans, we bring a common core of intuitions. So when I judge something as beautiful, that has some kind of authority over you, too." In other words, it's both objective and subjective. "Typically philosophical move," he concludes with a smile.
Some paintings are similarly ambiguous in terms of their conformity to realism. The Harbour, by Tom Forrestall (left), is a sketchy watercolour triptych in greys and browns that Dr. Schotch describes as "impressionistic. Realism produces an image your senses wouldn't pick up – we don't see very sharply. This represents what we do see. It's like [Monet's paintings of] La Gare St. Lazare: there's a looming locomotive with steam everywhere, but not much detail."

In Douglas Boutilier's Amusement Park, Ring Toss, thin oil paint barely conceals the grid lines used to plot out the composition (a Renaissance technique, though this work doesn't have the sense of depth common to Renaissance paintings – think The School of Athens, by Raphael). Dr. Schotch says the grid is "anti-realistic – it pretty much screams 'painting.'" Consciously self-referential, the painting can't be entirely realistic.

Richard Davis' Buoys in a Cardboard Box makes Dr. Schotch pause in silent appreciation before saying, "I like it very much. It's not only realistic, it also says 'Maritime' or 'Atlantic Canada.' It's breathtaking, remarkable."
See these works and many others before the show ends on March 9. Dalhousie Art Gallery is open from 11 to 5, Tuesday to Friday, noon to 5 on weekends.
This exhibition was funded, in part, by the Robert Pope Foundation.